New Service: Live Video Shopping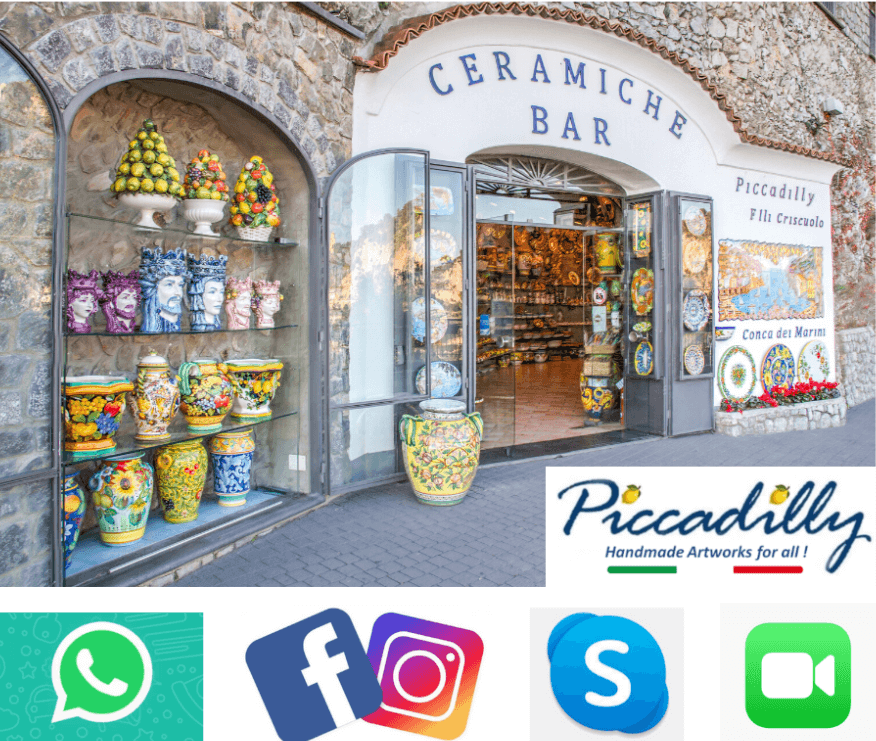 Dear Readers,

we want to inform you that our showroom is composed by more than 6000 handmade artworks and every day, as for almost 40 years, the owners, our artists and all the staff employed in our business continue to implement their skills in order to offer you a range of ever better and avant-garde masterpieces and services.
That's why we decided to implement our offer by enabling the "Online Video Shopping" service: through the use of social media and specific apps listed below you can visit our beautiful store located in Conca dei Marini, pearl of the Amalfi Coast Amalfi a few steps from the famous Emerald Grotto, from the comfort of your house.
Thanks this new idea all fans of ceramics, all supporters of the craftsmanship and all customers coming from all over the world can visit our store  in a quick and original way and live a truly unique new experience in a very short time.
So how you can book a virtual session to visit our shop and what are the methods available to use this service?
Here you are five applications that will allow us to offer you this truly unique service.
Facebook
As we know, Facebook is certainly one of the most used social networks by people from all corners of the world and, reading the latestmarket analysis, this social network reaches monthly about 2.5 BILLION ACTIVE users. This is why it now becomes mandatory to allow anyone interested in even a simple tour of our store, to offer this opportunity through a video call using this social network. For a quick reply we invite you to like our facebook page and send us a private message to start this service.
Instagram
How can we not take in consider the exponential growth of this social network focused on sharing photos and videos? This is why even this platform, through a video call service, will allow anyone interested in the idea of ​​discovering all our collections to be able to appreciate our masterpieces in a really quick and comfortable way. In this case, we invite you to follow our instagram page and contact us by private message to set up this service.
Skype
Skype can also offer this service. This service is very good for customers who, not being able to reach the Amalfi coast but wanting to visit our store, through video calls, can browse all our masterpieces displayed in our 3 floors show room.
In this case, please contact us or email us at sales@mcpiccadilly.com
Facetime
This app allows video interaction with all our customers who have an Apple device. By simply adding our phone contact to your Apple device, you can easily start a video call in which our sellers will be happy to communicate with all of you and illustrate all the qualities of our items, all entirely made and painted byhand in our laboratory. Again, just contact us or send un an email at sales@mcpiccadilly.com.
Whatsapp
Even this app now needs no more presentations and it represents a very valid tool to let you visit our lovely shop from the comfort of your home simply using your smart phone ...
In this case all you need to do is open this application, and send us a message at the following number: 0039 3314169106
Now that we have shown you this new way of shopping, when you contact us we do suggest you to also indicate:
- the day and time you are available for this service (indicating your country and city of origin);
- a summary list of the masterpieces you may be interested in (to allow the seller in charge to offer you the best possible service.

We are really happy to implement our services and we look forward to offering you our best assistance to let you admire all our handamde masterpieces from the comfort of your house in a very short time.
What are you waiting for? Contact us and we will be happy to offer you the best telematic experience with attentive and qualified staff.
Grazie and see you soon :)