It's Xmas Time...1300 new artworks online!
Dear Customers,
we are here to inform you that we are always working on our website to make it even better and much more complete.
In the past we did not diplayed online a lot of masterpieces to avoid that competitors (from Italy and from outside our country) could copy our handmade pieces entirely handmade and handpainted.
Now, taking care of the situation we are daily living and hoping that we can go back to our normal life as soon as possible, we did decide to improve our "online showroom" to offer you the best opportunity to get something unique and special for Christmas.
As you have read above, our website contains more than 1300 artworks in ceramic and in lava stone ready to be shipped worldwide in a very short time.
To let you have a nicer and greater online customer experience on our website we did increase our menu and our categories.
Here you are how we did improve our website, making much more complete our 4 main categories.
Starting from the 1st category, you can see that you will find:
- a selection of more than 160 PLATES in several pattern and in different combination of colors;
- a new area that it contains more than 80 SOUP BOWL / PASTA PLATES;
- more than 170 SERVING PIECES, tought to be used daily to serve your tasty dishes but also to use as lovely centrepieces;
(here you are an example below)
OVAL SERVING PLATE SUNFLOWER LEMON BLUE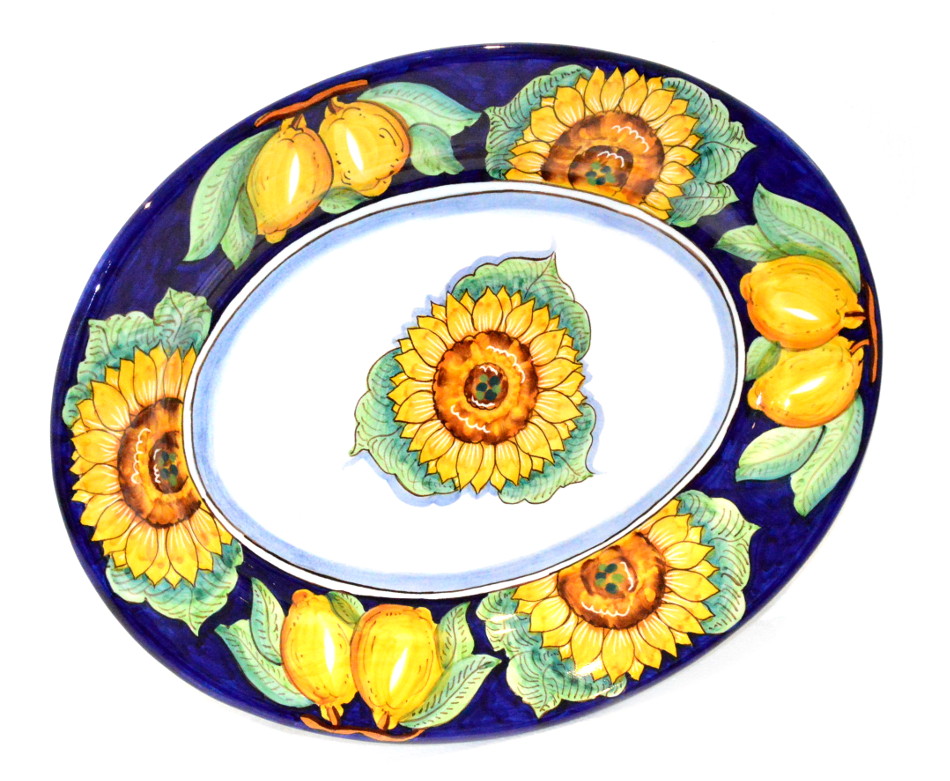 - a large selection of OLIVE OIL / VINEGAR BOTTLES in different sizes and shapes;
- a much more rich APPETIZERS selection, where you can find condiments bowls, olives bowls, bread and butter plates etc.;
- more than 110 CUPS AND MUGS with or without saucer;
- a complete area with more than 55 SPOON RESTS in several patterns;
- a nice selection of SALT AND PEPPER shakers;
- more than 60 SET OF DISHES ready to shipped very shortly.
(here you are an example below)
SET OF DISHES ANCHOVIES BLACK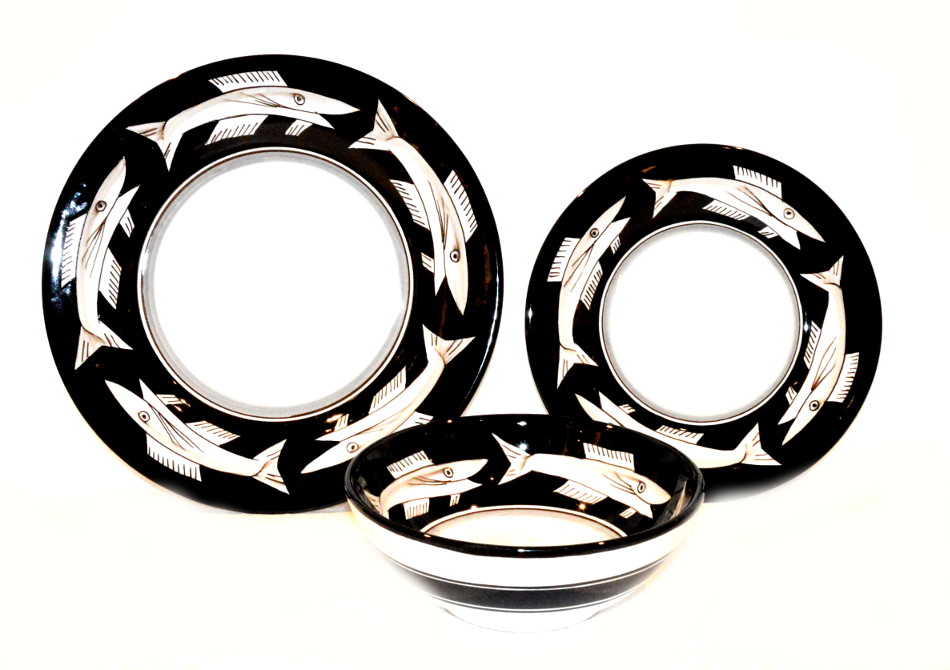 This second category is always composed by the same 4 subcategories:
- TILES
- WALL PLATES
- CENTERPIECES
- VASES AND UMBRELLA STANDS
We did not change the scheme of this part of our website but we did increase a lot the quantity of the available artworks in this area. Now in this part of our website, you will find almost 200 pieces, ready to be browsed and appreciated in any single detail. 
VASE - ICE BUCKET LEMON LIGHT BLUE SQUARES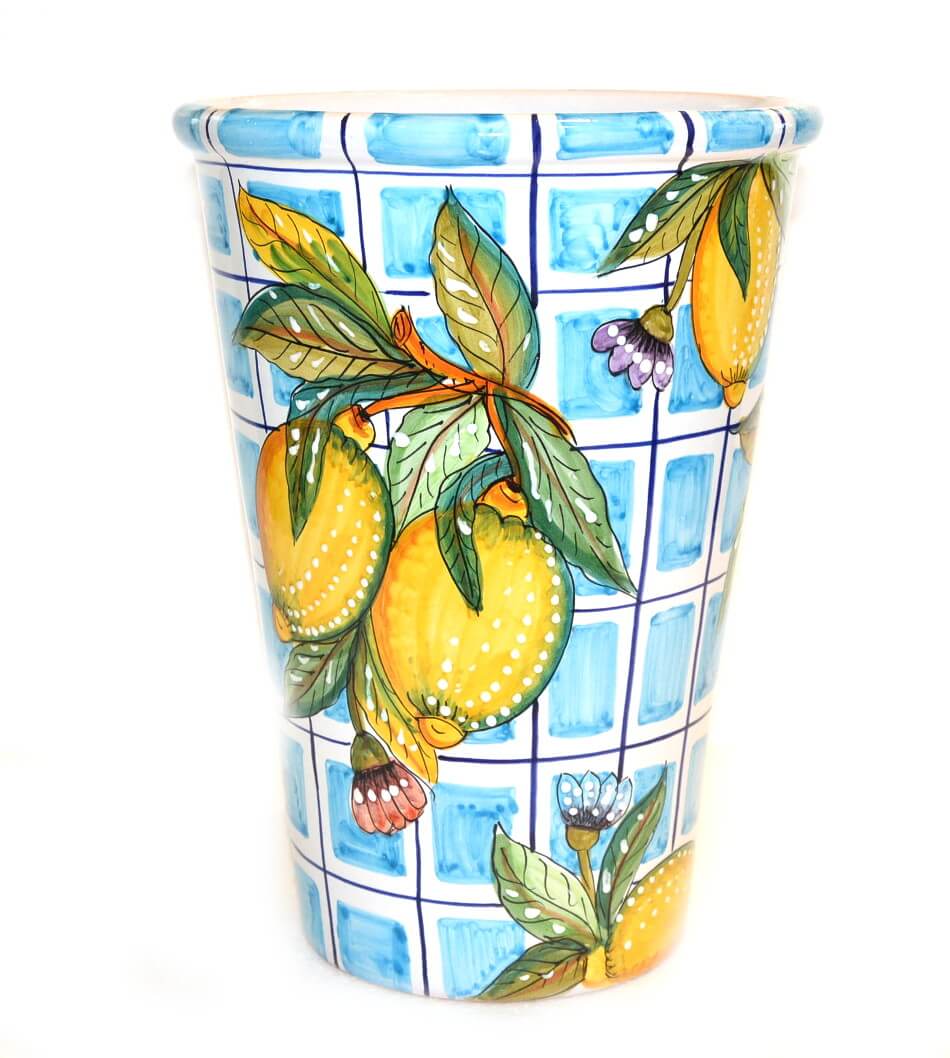 This area doesn't have any subcategories but we did enlarge the available selection of stone table tops we do have online.
At the moment we do have almost 70 available table tops in several sizes and shape.
We do remember you that we can create table tops in several sizes and shape (much more of the ones displayed online).
Smallest table we do produce start from a diameter of 16 inches until to arrive to very very big sizes.
In our factory we can also realize customized stone table tops...for example you can email us specific requests and we will make you happy as fast as possible (for example you can ask for a table of a size bigger than the ones available online, or you can ask to realize a design available online in a round shape into a different shape not displayed online, or you can ask us to create a table with your name on it, etc. etc.).
For all these requests, please CONTACT US or email us at sales@mcpiccadilly.com.

COFFEE TABLE RENAISSANCE BROWN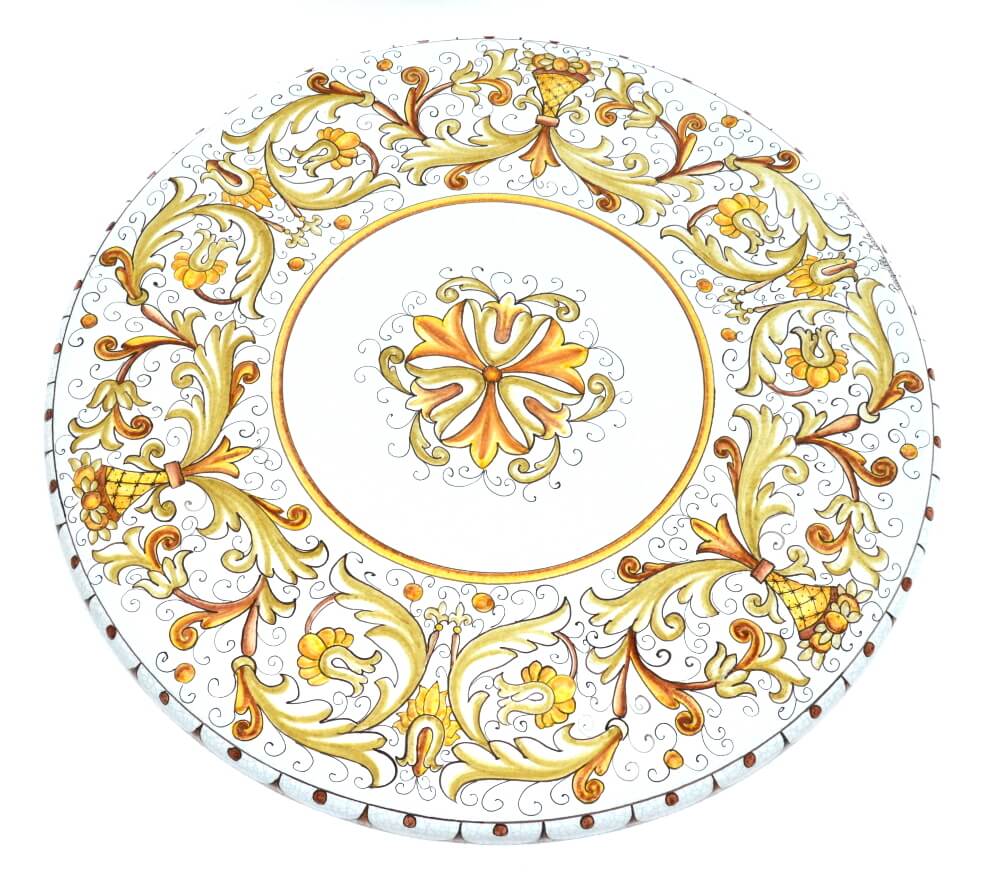 This category was one of the most improved categories of our website....Now it's Xmas time and we do really want to offer you the best selection ever. We did increase this area of the website a lot (at the beginning we did have only 55 pieces available...now, instead, we do have more than 350 lovely gifts ideas, to let you make happy all your family and friends).
This section is composed by 4 subcategories:
CHRISTMAS ORNAMENTS, composed by more than 80 available options.
This is one of the nicest option we do suggest you: 
4 XMAS ASSORTED ORNAMENTS AMALFI


KITCHEN TOOLS, where you can find more than 50 kitchen items to surprice your friends.
For example, you can find set of salad tongs, bottle opener, cheese grater, butter knife and much more.
FOR ALL OCCASIONS, a very special subcategory where you can find a huge selection of pieces (for example limoncello shot glasses, bath accessories, trivets, appetizers, small kitchen accessories and so on).
Here you are an example:
Shot Glasses Lemon 6 People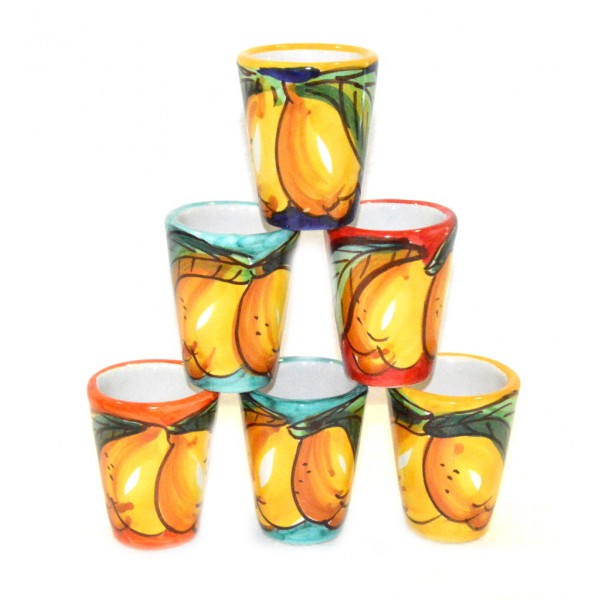 ANIMALS TO COLLECT, composed by a selection of more than 50 assorted animals in different sizes and shapes, ready to give a touch of colors to your house.
We were very happy to implement our website to let you have the richest and greatest online customer experience ever.
We do really hope that everything will be better all over the world very shortly.
We do really hope that we can go back to travel in total security worldwide as soon as possible (after having definitively overcome this strange situation by 110%).
Please stay super safe.
We wish you all the best,
Warmest Regards,
Piccadilly Team